A smooth decadent pale ale with a rich creamy mouthfeel. A prominent malt sweetness with hints of vanilla and a lightly infused coffee profile and mild bitterness
Coffee Breakfast Porter 5.7%
A dark resinous porter with Flavours of rich dark fruit, plums and raisins. The fruit sweetness is offset with a rich coffee bitterness and well-balanced body.
A smooth and unfiltered hefeweizen, Bigger Dinger has subtle notes of banana and clove. A clean taste and solid body finished with a little spiciness and banana flavours. A real easy drinker.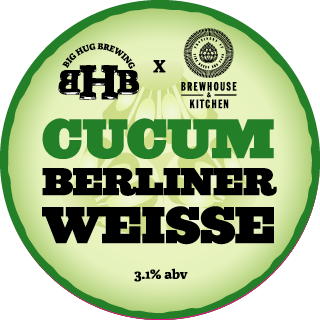 Cucumberliner Weisse 3.1%
The winning recipe from our brewers competition with Brewhouse and Kitchen. A light, refreshing, aromatic and quaffable Berliner made with real cucumber's and finishing with just a feint sourness
Only A Pale Ale Away 4.6%
Our easy drinking pale to support our charity partners Only A Pavement Away. Made using the finest English Maris Otter Pale ale malt, a distinctive copper pale colour and a rich malty base to showcase the finest American hops. Smooth notes of honey and caramel from the malt combine with Simcoe to give a light and balanced bitterness whilst Eldorado and Amarillo give a light aroma and flavour of watermelon, peach and stone fruit. £5 per keg sold goes to Only A Pavement Away
Word To The Bird 4.5% Dry Hop Pilsner
A beer brewed for Bird Restaurants in London and designed specifically to go with Chicken, they've allowed us to slip this into our specials. Word! An easy drinking, unfiltered pilsner dry hopped with Citra and a sprinkling of Mosaic this one is a winner winner chicken dinner.